This video is an adaptation of the drawing that Leonardo da Vinci made of the truncated tetrahedron (exacedron abscisus vacuus) for Luca Pacioli's book 'De Divina Proportione'.
Pacioli wrote about the truncated tetrahedron (Spanish translation):
"El tetraedro despuntado o absciso sólido plano o hueco está contenido por dieciocho líneas que forman treinta y seis ángulos superficiales y doce sólidos; por tanto, lo circundan ocho bases, cuatro de las cuales son hexagonales, es decir, de seis lados iguales, y cuatro triangulares, es decir, de tres lados, igualmente equiláteras y equiángulas. Pero, de estas dieciocho líneas, doce son comunes a las bases triagulares y hexagonales; y éstas son todas propias de los hexágonos, porque necesariamente los cuatro hexágonos juntos forman con algunos de sus lados los cuatro triángulos, como la experiencia de su propia forma material nos muestra de modo evidente. Y deriva del precedente -el tetraedro- mediante el corte uniforme de sus lados en tres partes iguales."
('La divina proporción' de Luca Pacioli, page 90, Spanish translation by Juan Calatrava, Editorial Akal, 4th edition, 2008)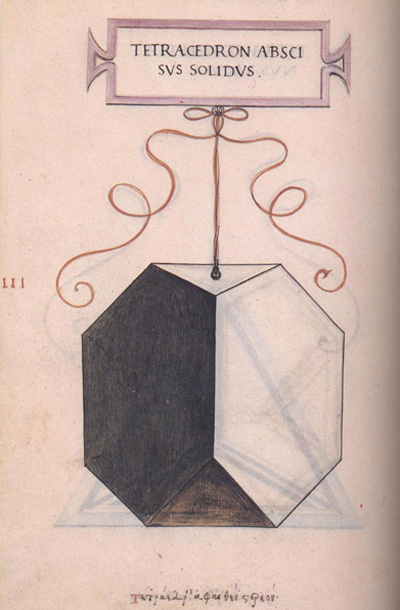 If you play with the interactive application you can get images like these: