This video is an adaptation of the drawing that Leonardo da Vinci made of the rhombicuboctahedron or small rhombicuboctahedron (Vigintisex basium planus vacuus) for Luca Pacioli's book 'De Divina Proportione'.
Pacioli wrote about this polyhedron (Spanish translation):
"Otro cuerpo muy distinto de los ya nombrados, Excelso Duque, es el llamado cuerpo de veintiséis bases, de hermosísimo principio y origen derivado. De sus veintiséis bases, dieciocho son cuadradas, equiláteras y rectángulas, y ocho triangulares, igualmente equiláteras y equiángulas. Tiene cuarenta y ocho lados o líneas y noventa y seis ángulos superficiales, setenta y dos de los cuales son rectos -los de sus dieciocho bases cuadradas- y veinticuatro agudos -los de sus ocho triángulos equiláteros-. Estos noventa y seis ángulos superficiales determinan la formación de dicho cuerpo de veinticuatro ángulos sólidos, cada uno de los cuales consta de un ángulo superficial del triángulo y tres ángulos rectos de tres cuadrados. Y de sus cuarenta y ocho líneas, veinticuatro son comunes a los triángulos y a los cuadrados, ya que de sus dieciocho cuadrados, debidamente unidos entre sí, resultan necesariamente los ocho triángulos, como se ha dicho a proposito de los otros abcisos. El origen de este cuerpo es el hexaedro uniformemente cortado en todas sus partes, como nos muestra a la vista su propia forma material. Su conocimiento resulta utilísimo por muchas consideraciones para quien bien lo sepa aplicar, sobre todo en arquitectura. Y esto por lo que respecta al conocimiento de su sólido plano o hueco."
('La divina proporción' de Luca Pacioli, page 97, Spanish translation by Juan Calatrava, Editorial Akal, 4th edition, 2008)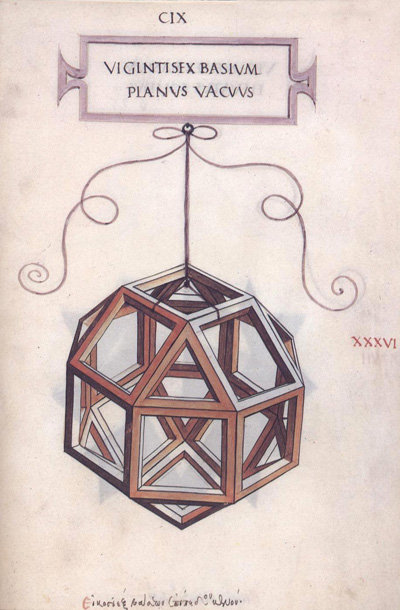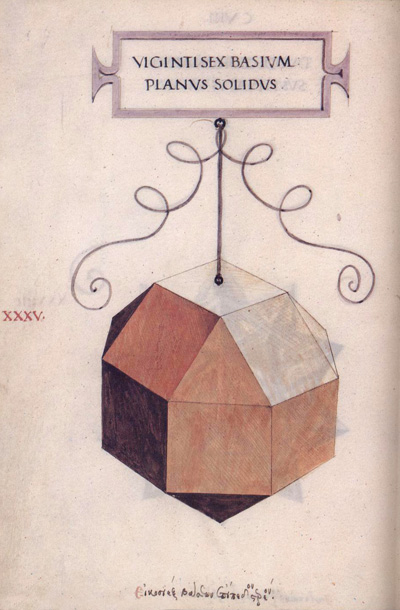 In the interactive application you can rotate the polyhedron and play with the "hole" in each face: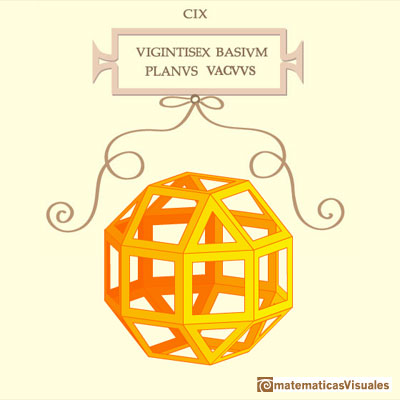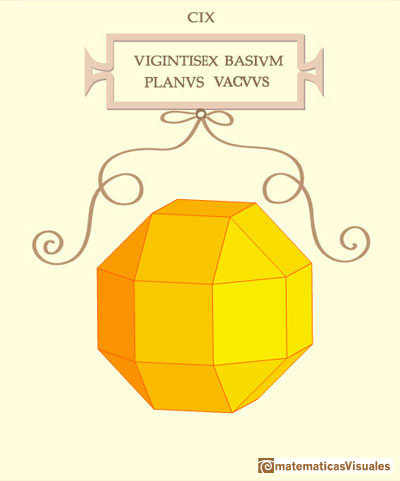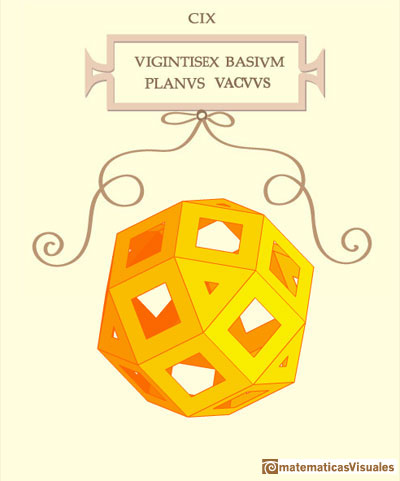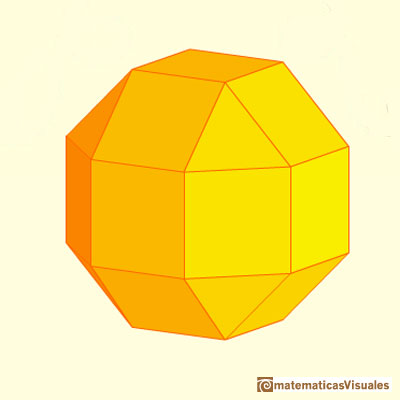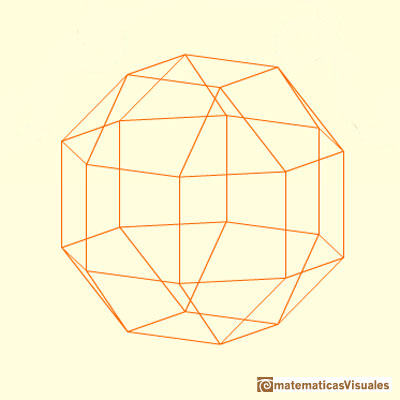 It is easy to build a rhombicuboctahedron with cardboard:

Using cardboard you can build beautiful polyhedra cutting polygons and glue them toghether. This is a very simple and effective technique. You can download several templates. Then print, cut and glue: very easy!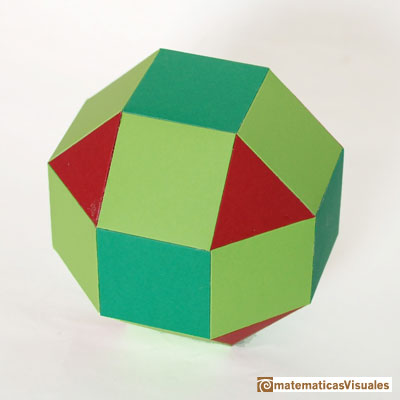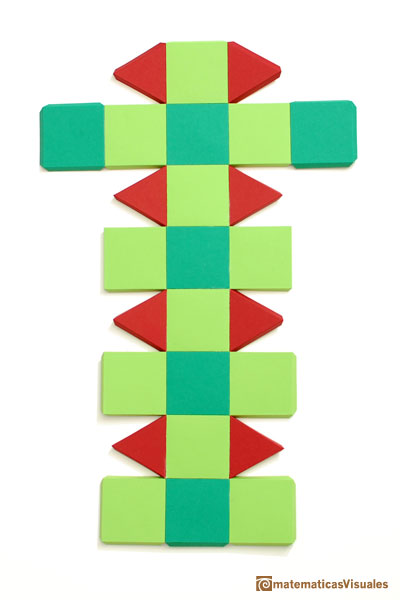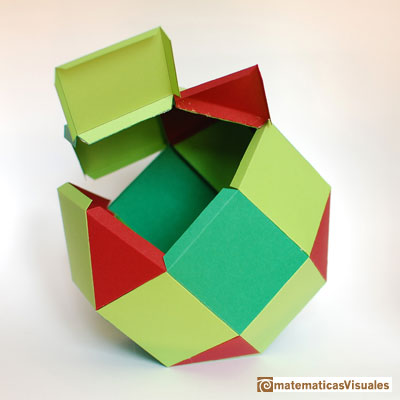 We can build a rhombicuboctahedron with Microarquitectura

Microarquitectura is a construction game developed by Sara San Gregorio. You can play and build a lot of structures modelled on polyhedra.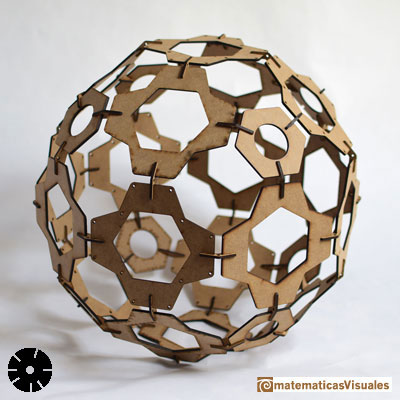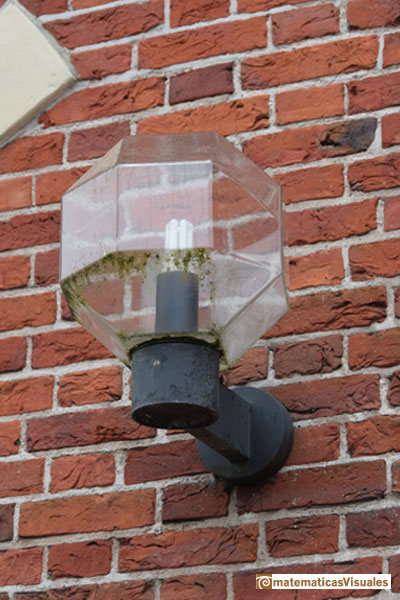 Edam (Holland), 2016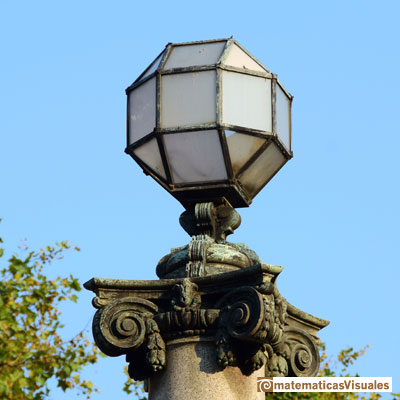 Barcelona, 2018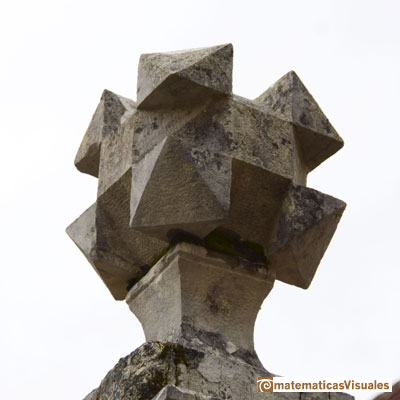 Variation about a rhombicuboctahedron in Sauveterre-de-Béarn (Francia), 2018
This beautiful dice is based on the rhombicuboctahedron. It is called the dice of Charles V and you can see it in the Museo Lázaro Galdiano (Madrid, Spain). Ángel Requena wrote a reference of this item in his web site
Turismo Matemático
. He also wrote an article about
this polyhedric dice
.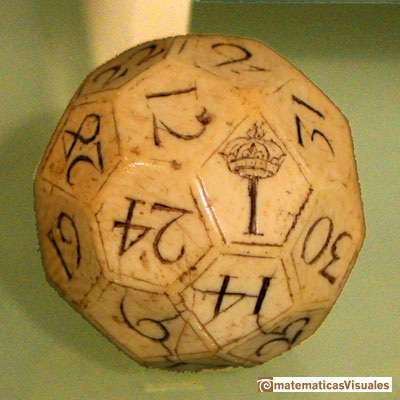 Museo Lázaro Galdiano (Madrid, Spain), 2018
Sundial in the Deutsches Museum in Munich. Its shape is a rhombicuboctahedron.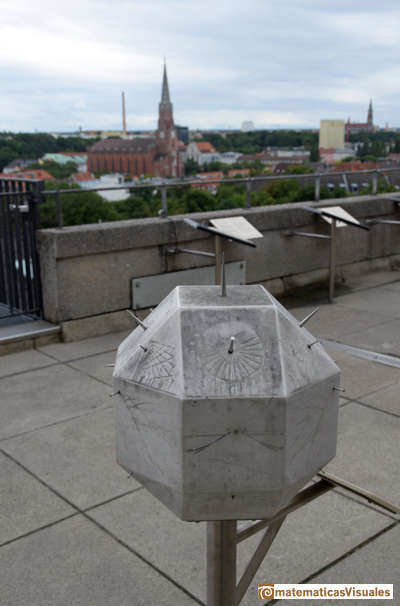 Sundial in the Deutsches Museum (Munich, Germany), 2016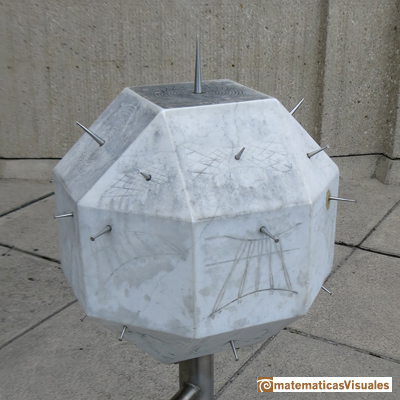 Sundial in the Deutsches Museum (Munich, Germany), 2016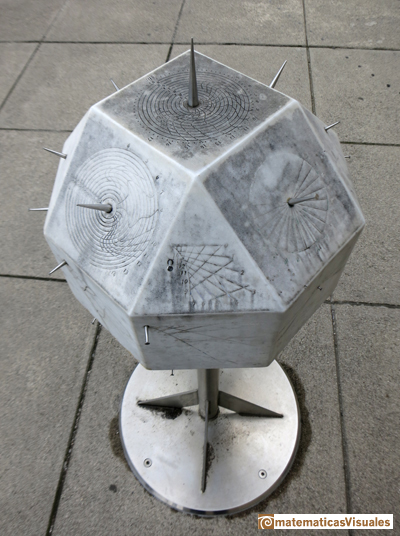 Sundial in the Deutsches Museum (Munich, Germany), 2016
REFERENCES
Dan Pedoe - Geometry and the Liberal Arts - St. Martin's Press.
Hugo Steinhaus - Mathematical Snapshots - Oxford University Press - Third Edition.
Magnus Wenninger - 'Polyhedron Models', Cambridge University Press.
Peter R. Cromwell - 'Polyhedra', Cambridge University Press, 1999.
H.Martin Cundy and A.P. Rollet, 'Mathematical Models', Oxford University Press, Second Edition, 1961.
W.W. Rouse Ball and H.S.M. Coxeter - 'Matematical Recreations & Essays', The MacMillan Company, 1947.