This video is an adaptation of the drawing that Leonardo da Vinci made of the truncated octahedron (octocedron abscisus vacuus) for Luca Pacioli's book 'De Divina Proportione'.
Pacioli wrote about the truncated octahedron (Spanish translation):
"El octaedro abciso o cortado plano sólido o hueco tiene treinta y seis líneas que forman setenta y dos ángulos superficiales, cuarenta y ocho de los cuales pertenecen a los hexágonos y veinticuatro a los cuadrados, y contiene veinticuatro ángulos sólidos y catorce bases, ocho de las cuales son hexagonales, o sea, de seis lados, y seis tetragonales, o sea cuadradas. Pero veinticuatro de las mencionadas líneas son comunes a los cuadrados y a los hexágonos. Los cuadrados están formados a partir de los hexágonos que, en número de ocho, se tocan de modo uniforme, como nos hace ver claramente el intelecto en su forma material."
('La divina proporción' de Luca Pacioli, page 93, Spanish translation by Juan Calatrava, Editorial Akal, 4th edition, 2008)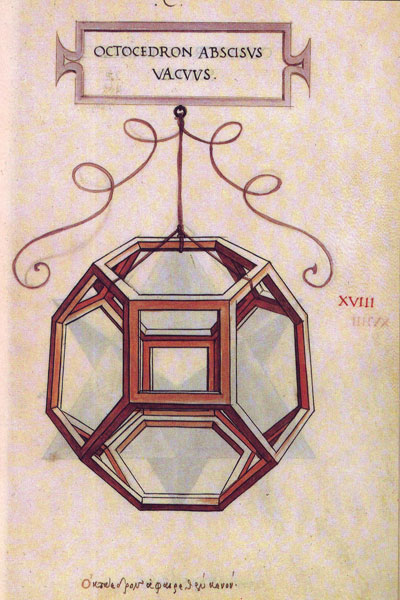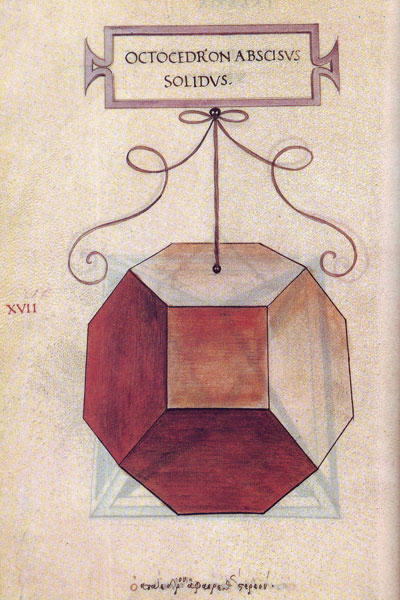 If you play with the interactive application you can get images like these: