When we consider a quadratic function in the complex plane it always have two roots. They are particular cases of polynomial functions. The Fundamental Theorem of Algebra states that every polynomial function of degree n has exactly n complex zeros, not necessarily distinct.
In the video we start representing the function

When we transform each point in the complex plane we get a new point. We associate a color to this point. These colors are related to the polar coordinates.
When we move the points, in general, we are seeing a representation of the function:

In this representation, you can see a family of curves that are level curves of the modular surface of the function. Points at the same curve have the property that the product of the distances to the roots of the functions are constant. Then these curves are Cassini Ovals and, between them, the lemniscate.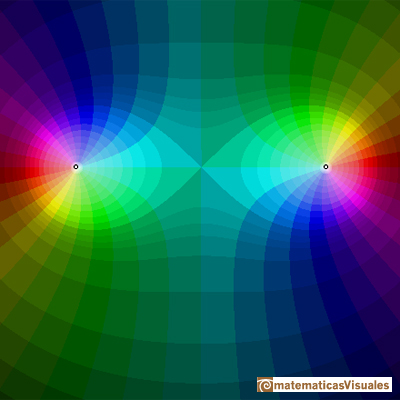 These ovals where studied by Cassini and he tought that planet trajectories followed this kind of curves. That was before Newton settled the question. These oval where known by the ancient Greek geometer Perseus (around 150 BC) as a toric sections (spiric sections or spiric of Perseus).
Near a zero you can zoom and see that near a zero the polynomial function is "like a cone" and the level curves are near circles.
You can move the dots that represent two different zeros or roots (two simple roots) of the polynomial function.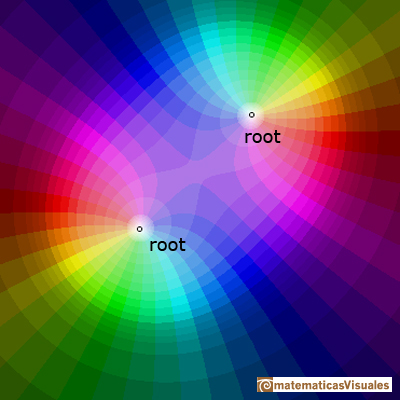 If the two roots are the same then we say that it is a double root (a root with multiplicity 2).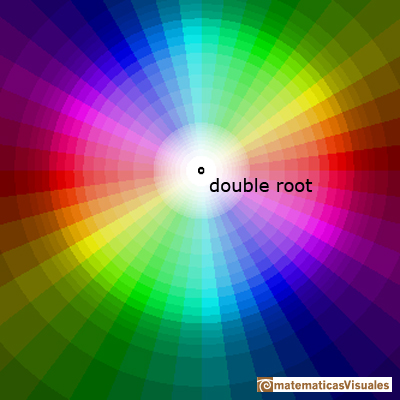 In the case of a double root you can see that the cycle of colors (red, yellow, green, blue) goes round the root twice.
In the next video you can play with a color code that uses a grid (or use the polar color code as before). You can see in black the points that are transformed into complex numbers with module "near" 1.