Sum of a Geometric Series
We have already seen, studying the geometric series of ratio 1/4, that a geometric series

is a convergent series when the ratio is less than 1. Its sum is:

A simple case is when the ratio is

Then, the geometric series we want to add can be represented in this way: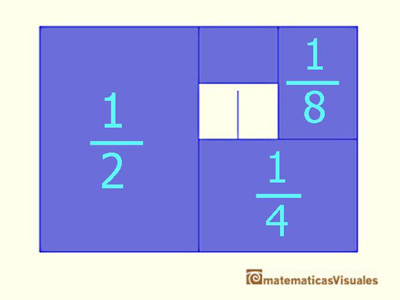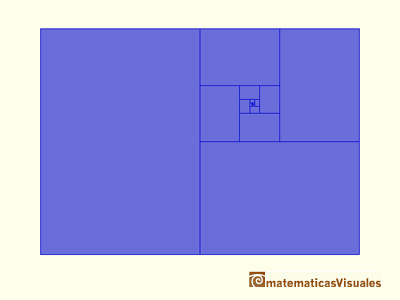 The sum of the geometric series of ratio 1/2 is:
In this visualization we have used a rectangle with a particular shape: when we cut it in half we get two rectangles with the same shape. This aspect ratio is used, for example, in the international papel size standard, ISO 216 (based on the German DIN, for example, DIN A4).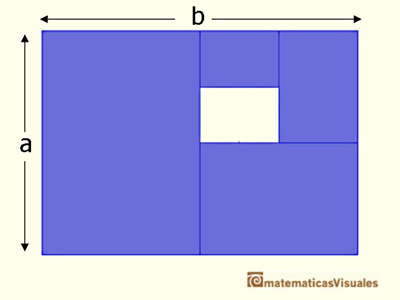 The aspect ratio of these rectangles is:
In the animation, these rectangles follow a kind of spiral around a point. ¿Can you think what are its coordinates? The result is related with another geometric series: the geometric series of ratio 1/4.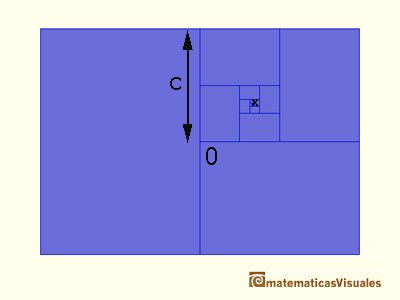 NEXT
We can study several properties of exponential functions, their derivatives and an introduction to the number e.

PREVIOUS

One intuitive example of how to sum a geometric series. A geometric series of ratio less than 1 is convergent.